3rd Open Conference by Functional Metagenomics International
When
June 16th–19th, 2019
Where
Lian Conference Center
Trondheim, Norway
Contact
For details please contact us
The registration is now closed!

The abstract template can be downloaded from this link.
About the conference
Functional Metagenomics 2019 aims to bring together the leading researchers in the field of Functional Metagenomics.
The conference program will include the latest experimental advances and technical developments in the fields of metagenomics based gene discovery and analysis, with clinical, industrial, and environmental applications.
If you would like to get updates please drop us a line using the form below.
Until then, stay tuned!
… …
---
The conference poster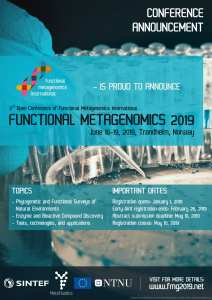 Please feel free to download and distribute the poster.
Main Sponsor
Sponsors




Poster price (1000$) sponsor

Exhibitors


Organised by
Get in Touch with us
The Venue
The conference will take place at Lian Restaurant in Lian, Trondheim, Norway
Give us a ring
Alexander Wentzel
+47 932 00 776
Mon - Fri, 8:00-19:00 CET
Rahmi Lale
+47 482 76 019
Mon - Fri, 8:00-19:00 CET